Summer is coming, and for those of us involved in the bus industry our thoughts immediately go to the increased risk the summer heat presents when accidentally leaving children on school buses. Any time is a bad time to leave children on a bus – but in summer it can be very dangerous and even fatal.
While bus companies and schools have implemented many different operating processes over the years, children still get left on buses and the summer heat presents an added danger.
Everyone involved in leaving a child on a bus accidentally are traumatised by the experience. Not only the student,  but also their parents and those charged with the care of the child.
RollCall has been providing a proven solution to this problem that while engaged for special needs education transport has also been used in conventional education.
Our solution – detailed here by our technology partners Samsung – identifies and engages all the people involved in safety of children on buses.
Drivers, supervisors and teachers all logon or scan onto our in-bus units to identify themselves. On the morning school bus runs all three (driver, supervisor, teacher) are required to scan our unique Bus Check Boards fitted to the back of the bus, in doing so confirming individually that the bus is clear of children, and water bottles, clothing, and whatever else may have been left behind!
The afternoon route has a slight critical variation. Once the three key staff are all identified on the system and the students are loaded, it is the teacher's responsibility to walk the length of the bus, check that all the students are seated in the correct seats, have their seat belts clipped in and then scan the back of the bus, confirming with a green icon on the Bus Field App that the bus is clear to leave. We call it the custody handover.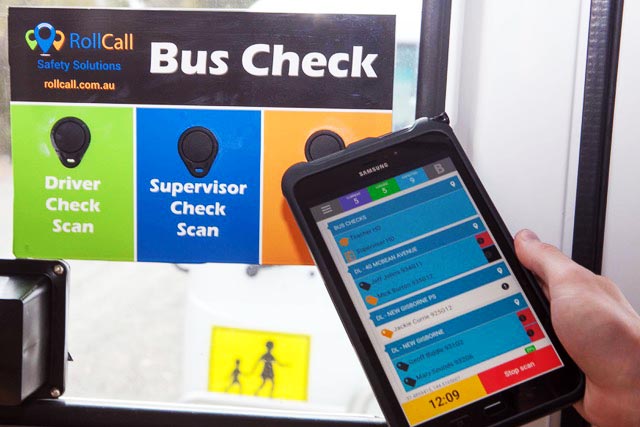 The bus staff then proceed to deliver the students to their stops and on completion of the route when the Bus Field App displays zero students on board the supervisor and driver both scan the back of the bus and time and date stamp the scan, ensuring the bus is empty.
It's a proven system and while conventional schools do not have supervisors on board they do have drivers and staff who con confirm the bus is clear of children, the school's duty of care have been met and everyone has peace of mind.
If you are interested in discussing this solution feel to contact the staff at RollCall.