WELCOME TO ROLLCALL FOR SCHOOLS
RollCall provides
schools

full management of duty-of-care on bus transfers and excursions
Saves time and eliminates the risk of human error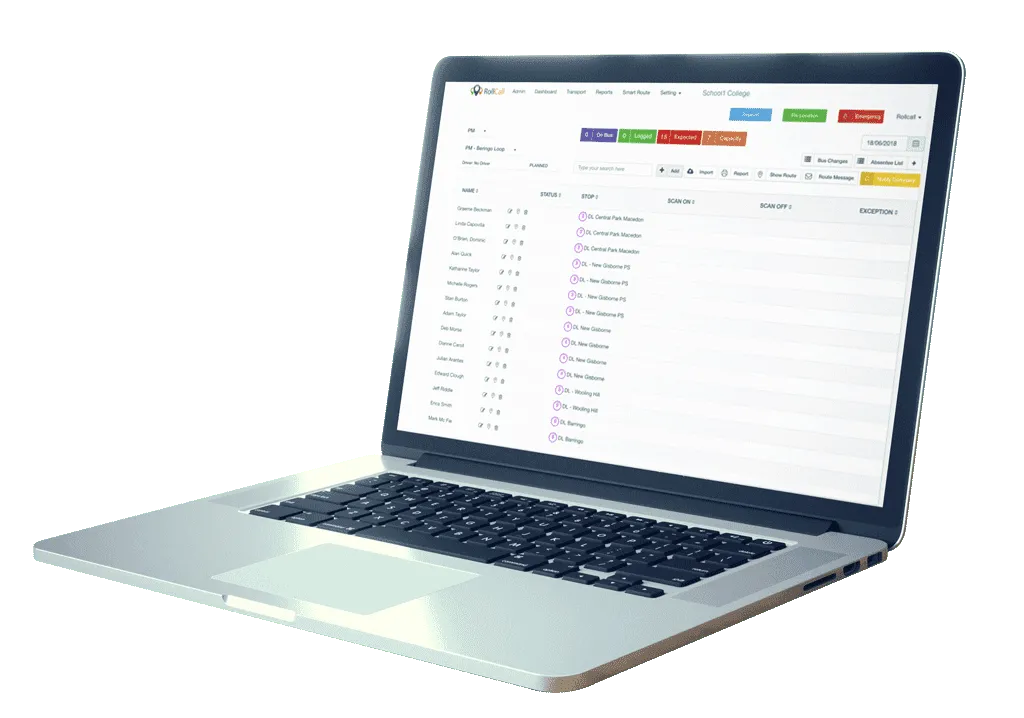 RollCall School Bus Management Software – Benefits for schools
Effectively monitor your students' bus travel with our school bus management software
Are teachers doing roll-calls and headcounts on bus lines for daily travel, sporting events, and excursions? Has there been an incident causing unnecessary stress such as a child getting on the wrong bus, alighting at the wrong stop, or failing to get on a bus? An excursion returning late while concerned parents waited? With RollCall school bus management software – parents, schools, and the bus company have awareness of individual children in transit. Track journeys in real-time. Receive real-time email alerts about variations or deviations in journeys or passengers. Schools and bus companies that use RollCall are delivering the peace-of-mind over school kids in transit that parents expect and demand.
RollCall can also significantly improve school bus route planning and efficiency with our Smart Route Module.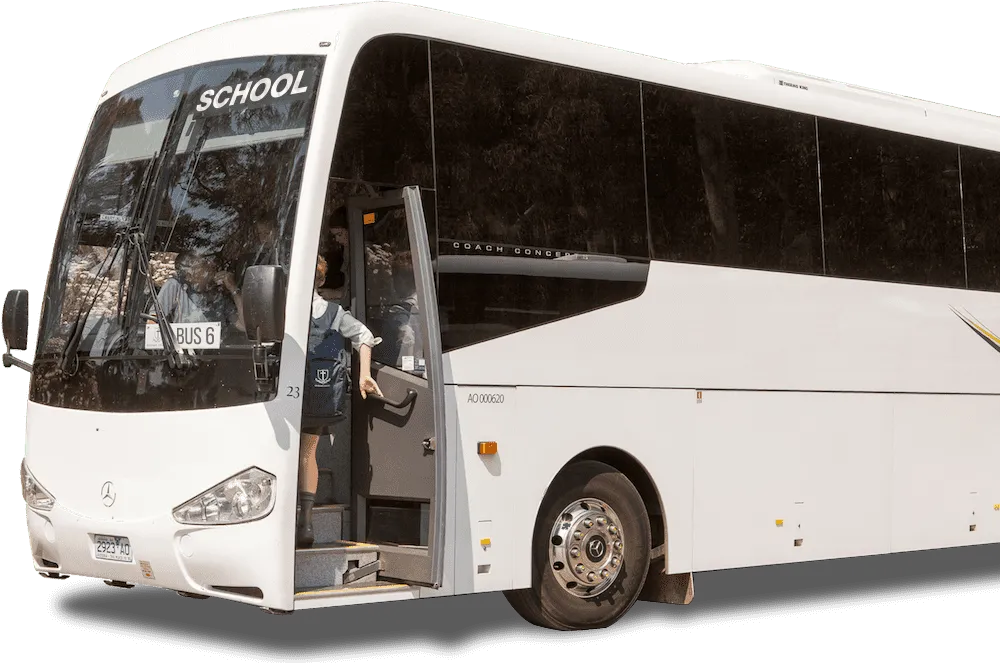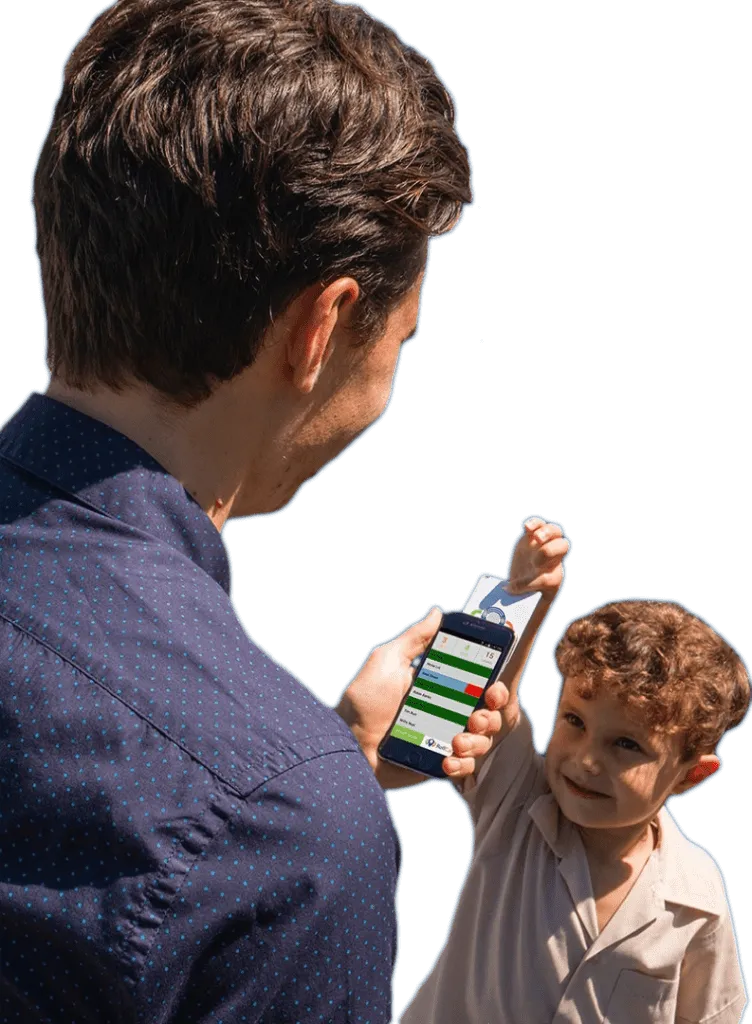 Dashboard view and real-time alerts for schools
RollCall brings together state-of-the-art travel smart-tag technology (something like Opal and Miki cards) with advanced GPS/telematics bus-tracking technology to give schools and parents full visibility of kids travelling on school buses.
Kids tap-on, tap-off the bus or enabled RollCall device
Teachers can use the RollCall device for on-the-spot scanning
Know which bus route each child should be taking
Know which children are travelling on which bus
Know when and where each child is getting on/off buses
Track bus journeys in real-time on an easy-to-read map
Receive alerts if any journey isn't going exactly to plan
Parents are automatically alerted if there's a problem
The bus company knows the correct route for each child
Drivers are alerted to discrepancies in any child's itinerary
Secure data – secure restricted user-access authorisations
What schools are saying about RollCall bus management software
Schools and parents of school children all over Australia are talking about the many benefits of RollCall for school student travel monitoring
"RollCall has been a fantastic addition to our school. With its ease-of-use and efficient support team, it has helped to streamline our processes for student bus travel. Feedback from parents has been very positive. In addition, the system has allowed the School to commence a casual user option, resulting in improved utilisation of buses."
Hume Anglican Grammar School
Michelle Nickson - Finance & Administration Officer
"Braemar College implemented RollCall in 2017. As a regional school of 890 students, with almost all travelling to and from school by bus, RollCall has enabled staff to identify which students are on a particular bus at any given time, whether individual students boarded their usual or an alternative bus, and where they disembarked. This enables staff to quickly identify where in the bus network students are, which is particularly useful if they have diverged from their usual routine. RollCall is a reliable and cost-effective product which supports students' safety across our network of 16 buses. As Principal of Braemar College, I highly recommend it."
Braemar College
Russell Deer - Principal
With near 2000 students here at Bacchus Marsh Grammar and a high portion being bus travellers, it was important to find a solution which could provide teachers and parents greater visibility and safety on students journey to and from school. Partnering with RollCall to provide this service has been a great decision, their willingness to meet our unique requirements and listening to our needs has made it that much easier to deploy this product into our greater community.
Bacchus Marsh Grammar
Daniel Somerville - Director of ICT Services
Packaged pricing makes RollCall school bus management software accessible now
RollCall is made easily-available to schools of all sizes, in the interests of child safety
Low-cost options for implementing RollCall
It's easy for schools and bus companies to start using RollCall. You can download this brochure for more information. If the school gets in touch with us we can quickly get the ball rolling with a demo and affordable pricing plans. Once the decision is made, RollCall is usually up-and-running within a few weeks.